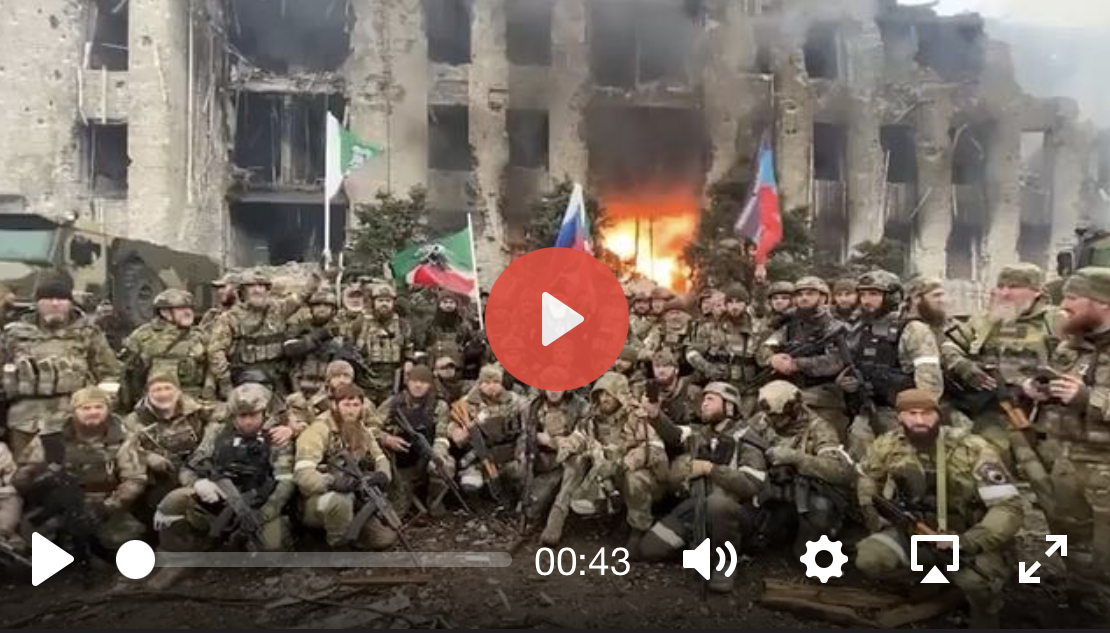 As we approach the 60th day of the war, the Russian government has confirmed the final occupation of the besieged city of Mariupol, after weeks of heavy fighting, casualties, and shelling.
The special unit of Russian Chechen soldiers, known as the Kadyrovtsy, released a video of its soldiers standing in front of a burning building and declaring the conquest of the coastal city of Mariupol, a strategic enclave connecting the Russian eastern and southern fronts. One of the leaders even acknowledges that Putin ordered the destruction and purge of the city.
The video has now gone viral on social media and shows a unit of Chechen soldiers and their leader, wearing distinctive black clothing, celebrating with Chechen and Russian flags the seizure of the city.
According to the Ukrainian news agency, Ukraine World, the leader in the video declares, "An order to destroy and take away Mariupol has been fulfilled. President Putin's order has been fulfilled, Kadyrov's order has been fulfilled."
On the same day of its release, the Russian state news agency TASS reported that the Kadyrovtsy took control of the Ukrainian steel mill Azovstal, which is also located in Mariupol.
The head of the Chechen Republic, Ramzan Kadyrov, gave an interview to TASS in which he confirmed the news.
"Mariupol is ours!…. The city has been definitely and completely taken. The important administrative building at the Azovstal plant is already under control and all the adjacent territory has been cleared," Kadyrov assured TASS.
Mariupol now.
The view to the Azovstal fortress. pic.twitter.com/ju0Av1xtps

— Illia Ponomarenko 🇺🇦 (@IAPonomarenko) April 22, 2022
In addition, the Chechen leader said that Ukrainian soldiers have been blocked under concrete and steel inside the plant.
Thousands of citizens have died in Mariupol since the beginning of the conflict and nearly 2,000 others have found refuge in the Azovstal steel plant, according to Ukrainian authorities.
So far, Russian forces have not explicitly said what has happened to the thousands of people trapped in the steelworks.
"Because of this, elimination missions were twice as difficult," Kadyrov said. "Civilian losses could not have been allowed, but a threat [had to be] eliminated. Response measures have been conceived and later implemented in the shortest time span."
Ukrainian authorities claim that Russia has buried thousands of civilian bodies in a 300-meter-long mass grave near the city, in the small town of Manhush.