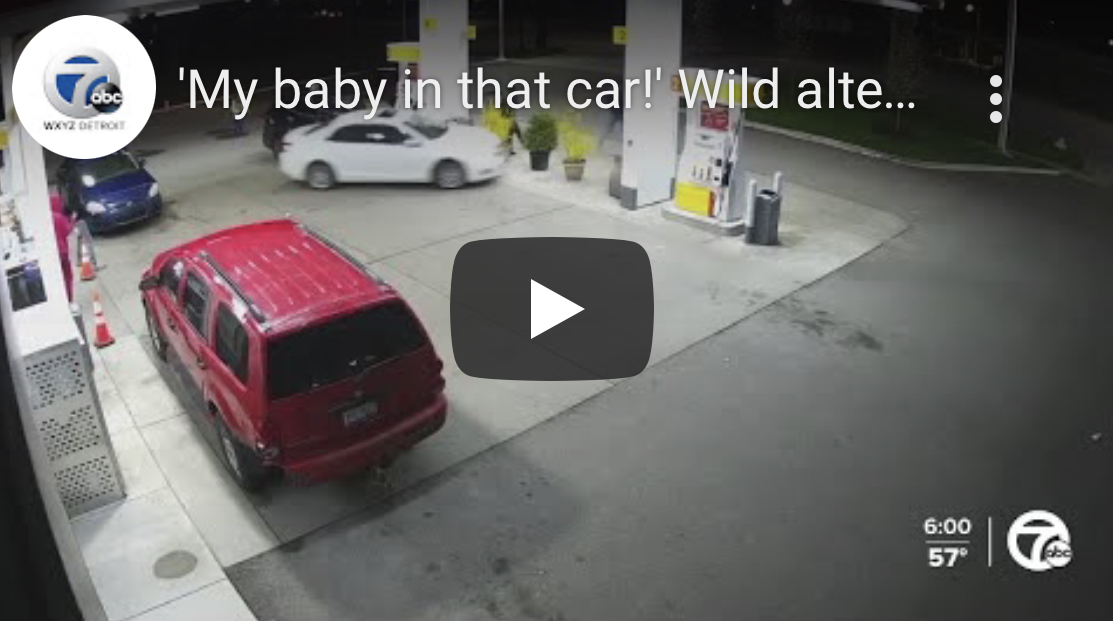 (WXYZ) — "My baby in that car," a mother's heart-wrenching plea for mercy falls on deaf ears as a woman on a tirade smashes into not one but two cars at a Belleville gas station, with a 7-month old infant in the backseat.
Surveillance video shows the car stop and the woman is finally able to get her child out of the car and into her arms for safety, but the attack isn't over.
A woman who police have now identified as 26-year-old Ariyah Bennet grabs a bat out of the trunk of her car and smashes a car's driver-side windshield.
The chaotic scene unfolds at a Shell gas station on Belleville Road and I-94. But what led up to the attack?
Van Buren police confirm the two women from neighboring towns were meeting up for a children's clothes exchange. The woman in the Black SUV confronts Bennet and allegedly calls her a 'burnt piece of toast' and the two got into a physical fight, but it wasn't long before fists weren't enough.
Bennet allegedly hit Lulow's car with a bat too, but Lulow says she is thankful no one was seriously hurt and the irate woman reached for a bat and not a gun.
Van Buren police quickly arrived on scene and Bennet was arrested and faces a slew of charges and fines including two counts of assault with a deadly weapon. The other woman involved in the altercation has not been charged but police confirm the 7-month-old child was not injured during the crashes.
In total Bennet faces six charges including three felonies and up to 14 years behind bars.
NEWS OF THE DAY…
DHS Secretary Mayorkas on CNN: Biden's new "disinformation" czar is "eminently qualified, a renowned expert" (VIDEO)
Nina Jankowicz, 33, has been appointed executive director of the Department of Homeland Security's Disinformation Governance Board, a team whose mission in theory will be to stop online 'misinformation'. She tweeted in 2016 that she thought a Donald Trump presidency would embolden ISIS, even though it fell under his administration. In one video, she sings about misinformation, and in another she praises Sen. Elizabeth Warren. WATCH VIDEO »
VIDEO: Australian political candidate holds "F**k Xi Jinping" sign at Asian market in Sydney. Residents lose their minds
A political activist, who is running for the senate in Queensland, has provoked a bitter reaction from a crowd after holding up an obscene sign that said 'F**k Xi Jinping' at an Asian market in Sydney. Drew Pavlou sparked an angry reaction from bystanders who called him a "motherf**ker" and "son of a b**ch" for displaying the sign aimed at Chinese President Xi Jinping in Eastwood in Sydney's north west. WATCH VIDEO »
The U.N. confirms that an operation to evacuate people from a steel plant in the Ukrainian city of Mariupol is underway
The U.N. confirms that an operation to evacuate people from a steel plant in the Ukrainian city of Mariupol is underway. READ MORE »
Popular country destination for Hippies looking to legalize marijuana again
Nepal's marijuana ban could soon be up in smoke, as lawmakers mull a return to the liberal drug policies that once made the Himalayan republic a popular pit stop on the overland "Hippie Trail" READ MORE »
The Phoenix Ghost, a secretive 'suicide drone' headed to Ukraine
The San Diego Union-Tribune: The Ukrainian military will soon begin tracking and attacking Russian forces with a secret new "suicide drone" produced by Aevex Aerospace, a little-known California company that has considerable experience with unmanned aerial systems. The Biden administration is sending 121 of the company's Phoenix Ghost drones to Ukraine, where they will are expected to get heavy use in the eastern part of the country. READ MORE »
Prosecutor Durham unmasks alliance between media, Democrat dirt diggers that triggered false Russia story
Just The News: Just days after Hillary Clinton emissaries Christopher Steele and Michael Sussmann approached the FBI in September 2016 with dirt that would infuse the Russia collusion probe, the campaign's opposition research firm sent some of the same information to New York Times journalists. READ MORE »
VIDEO: Ukraine hunts down traitors posting online in support of Russia
VIDEO: Crypto entrepreneurs getting energy in the most original ways
Cryptocurrency entrepreneurs across the United States are fueling their operations with a source of natural gas that frequently gets wasted during oil production. WATCH VIDEO »
India seizes $725 million China's Xiaomi over remittances
ABC News: Indian authorities on Saturday seized $725 million from Chinese smartphone company Xiaomi, accusing it of breaking the country's foreign exchange laws by making illegal remittances abroad, officials said. READ MORE »
Michigan deputy arrested after torturing service dog to death
Fox News: A Michigan sheriff's deputy was arrested on a felony charge for torturing and killing his service dog after the animal allegedly nipped him. Jacob Wilkinson was apprehended Monday and was terminated from his post at the Genesee County Sheriff's Office after the decomposed dog was discovered in a ditch duct-taped with bullet holes in its head, according to officials. READ MORE »
Fort Worth becomes first U.S. city to mine bitcoin…
CNBC: Fort Worth, Texas, is now the first city government in the United States to mine bitcoin — and in an almost poetic devotion to the initiative, Mayor Mattie Parker oversaw the construction of a small mining farm in City Hall. Three Bitmain Antminer S9 mining rigs will run 24 hours a day, seven days a week, in the climate-controlled information technology wing of Fort Worth City Hall. The city says the miners will be hosted on a private network to minimize the security risk. READ MORE »
Teacher in the U.S. under fire after using cotton and cuffs to explain slavery to kids…
The Hill: Rochester school officials are investigating allegations that a white teacher told his class of mostly Black students to pick seeds out of cotton and put on handcuffs during lessons on slavery in a seventh-grade social studies class. "It made me feel bad to be a Black person," student Jahmiere O'Neal told news outlets. READ MORE »
Fatbergs: The Growing Menace Under Our Streets
Zero Hedge: In use since 2013, the term 'fatberg' has become an increasingly heard term that describes a large solid mass found in a sewer that is made up of non-biodegradable solid matter and grease or cooking fat. READ MORE »
Angelina Jolie meets children, volunteers in Lviv on April 30 (Photos)
Reuters: Hollywood actress Angelina Jolie visited the Ukrainian city of Lviv on Saturday, going to the station to meet people displaced by the war with Russia before later leaving after air-raid sirens sounded. READ MORE »
VIDEO: Inhabitants of liberated Kutuzivka, Kharkiv Region meet Ukrainian soldiers
University midwife students taught to care for men giving birth 'through their penis'
A British university is teaching its midwifery students how to care for males giving birth. Feminism news website Reduxx revealed teaching materials from Edinburgh Napier University that state the person giving birth may still have "external male genitalia" after transitioning. The skills workbook on "catheterization" informs students the person giving birth may be a male. READ MORE »
Chicago sees most violent weekend of all year, 7 killed and 37 hurt…
Chicago Sun-Times: Seven people were killed, a man was critically wounded in a police-involved shooting and 36 others were shot across Chicago this weekend, marking the city's most devastating toll so far this year as temperatures rose ahead of the typically violent summer months. READ MORE »
'Kissing' in the Metaverse now possible with tech that sends sensations to mouth, lips…
The Sun: As if the metaverse wasn't bad enough with seedy strip clubs and naked avatars, experts want to take the realism a step further. Scientists have created a device that brings a feeling sensation to the mouth, lips, and tongue. They pulled it off by adding a load of special ultrasonic transducers to a VR headset. At the moment, the metaverse and VR are largely focused on 360 visuals, sound, and hand controls. READ MORE »
VIDEO: Lost dog reunited with owners after 11 long years
More than a decade after a Yorkshire terrier puppy was stolen from a grieving family living in the Boston suburb of Quincy, the pooch is back at home. WATCH VIDEO »
U.S. Senator Rand Paul wants to investigate origins of Covid…
Newsmax: U.S. Sen. Rand Paul promised Saturday to wage a vigorous review into the origins of the coronavirus if Republicans retake the Senate and he lands a committee chairmanship. Speaking to supporters at a campaign rally, the libertarian-leaning Kentucky Republican denounced what he sees as government overreach in response to the COVID-19 pandemic. READ MORE »
Finland prepares to live without Russian gas…
RT: The Finnish government and companies across the country are preparing for the end of Russian natural gas supplies, which could happen in less than three weeks, Helsingin Sanomat (HS) reported on Saturday. According to the outlet's sources, Russian energy giant Gazprom has set a deadline of May 20 for Helsinki to come up with a final response on whether the country will pay for gas in rubles. READ MORE »
Country music star Naomi Judd dies by suicide…
CBS: Just one day before she was to be inducted into the Country Music Hall of Fame along with her daughter Wynona, Naomi Judd has died at the age of 76. She and Wynona, known just as the Judds, owned a corner of country music in the 80s and carved a special path for women. Judd died by suicide and Wynona and Ashley Judd issued a statement saying they "lost their mom to the disease of mental illness." READ MORE »
More than 100,000 Germans signed a petition against the supply of weapons to Kyiv
RIA Novosti: More than 100,000 people signed a petition to German Chancellor Olaf Scholz urging them not to supply heavy weapons to Kyiv. By May 1, the petition had garnered 108,640 signatures, a day earlier it was reported that more than 50,000 people had joined it. The signatories urged Scholz "to do everything possible to achieve a ceasefire as soon as possible; a compromise that both sides can accept." READ MORE »
North Korea's Kim Jong Un warns of 'preemptive' use of nuclear force
France 24: Kim told top military officers that to "maintain the absolute superiority" of North Korea's armed forces, the country should be able to "preemptively and thoroughly contain and frustrate all dangerous attempts and threatening moves… if necessary," the official KCNA news agency reported. READ MORE »
Leonardo DiCaprio's beef with Brazilian President Bolsonaro over Amazonas rainforest comments…
Deadline: Leonardo DiCaprio and Brazilian President Jair Bolsonaro have engaged in a war of words on social media, after the Oscar winner used the platform to urge the South American country's young people to vote in the forthcoming elections. "Brazil is home to the Amazon and other ecosystems critical to climate change. What happens there matters to us all and youth voting is key in driving change for a healthy planet," DiCaprio stated on his Twitter account. READ MORE »
Elon heading to Supreme Court after Twitter purchase…
The Daily Mail: Just days after taking over control of Twitter, Elon Musk has now set his sights on going after federal regulators the SEC. The Tesla founder has quietly signed onto an amicus brief filed last week that could prevent the Securities and Exchange Commission from issuing gag orders which prevent people who settle with the SEC without admitting fault from discussing their cases. READ MORE »
Apple employees claim it's RACIST to force them to return to a physical office
The Post Millennial: Over 200 employees at Apple Inc. have signed and published an open letter to the technology giant's executive team on Friday, arguing that a return to in-person work isn't in the best interest of the company because it's racist. "Our vision of the future of work is growing further and further apart from that of the executive team," the letter reads. READ MORE »
VIDEO: Drone footage of Ukrainian attack on a Russian ammo depot in Irmino, Luhansk Region!
VIDEO: Man grooming 15-year-old girl gets some painful justice from her father
The man in the chair getting beaten is actually the friend of the man beating him. It seems the 15-year-old daughter of the angry man was getting very inappropriate texts from the man in the chair so her father asked her to text him back for a meeting and when the creep showed up at her house with a condom, this was the painful result. WATCH VIDEO »
CDC Reports First Human Case Of Avian Influenza
Zero Hedge: A Colorado man has tested positive for an H5 bird flu virus, the first such case in the U.S., health officials said on April 28. The Colorado health department said the man, who is younger than 40, had been working on a commercial farm with poultry that, according to the CDC, was presumably infected with H5N1. He reported fatigue as his only symptom and is now in isolation and being treated with the flu antiviral drug oseltamivir. READ MORE »
1 in 300 Canadians identifies as transgender or nonbinary…
The Washington Examiner: Roughly 1 in 300 Canadians identifies as transgender or nonbinary, according to the country's 2021 census data released on Wednesday. The dataset reported on over 30.5 million Canadian citizens aged 15 years old and up, according to a report. Of that number, 100,815 reported that they identify as transgender or nonbinary, equating to roughly 0.33%, or 1 in every 300 Canadians. READ MORE »
BIDEN at WHCD: 'If you're at home watching this and are wondering how to [get vaccinated], just contact your favorite Fox News reporter. They're all here, vaccinated and boosted'
BIDEN: I'm really excited to be here with the only group of Americans with a lower approval rating than I have
President Biden poked fun at his own low approval rating and called the Trump administration a 'horrible plague' as he cracked jokes and roasted the press at the annual White House Correspondents' Association Dinner. WATCH VIDEO »
VIDEO: U.S. House Speaker Nancy Pelosi meets Zelensky on unannounced visit To Kyiv – Officials
Channels Television: "We believe that we are visiting you to say thank you for your fight for freedom… Our commitment is to be there for you until the fight is done," Pelosi told Zelensky, according to a video released by the Ukrainian presidency. WATCH VIDEO »
VIDEO: Joe Biden calls Trump admin "a horrible plague"
Joe Biden celebrated the return of a flashy annual gathering of Washington's political and media elites on Saturday with some humorous jabs at Donald Trump – and himself. The US president, sporting a tuxedo and slightly askew bow tie, spoke at the White House Correspondents' Association dinner, which was canceled in 2020 and 2021 because of the coronavirus pandemic. It was another tentative step towards Washington norms after Trump repeatedly snubbed the gala, which allegedly champions the freedom of the press. WATCH VIDEO »
Warren Buffet: "I wouldn't buy all of the bitcoin in the world for $25"
Bitcoin has steadily been gaining acceptance from the traditional finance and investment world in recent years but Warren Buffett is sticking to his skeptical stance on bitcoin. He said at the Berkshire Hathaway Annual Shareholder meeting Saturday that it's not a productive asset and it doesn't produce anything tangible. Despite a shift in public perception about the cryptocurrency, Buffett still wouldn't buy it. WATCH VIDEO »
Trump blasts marxist lunatic chosen to lead Joe Biden's "Ministry of Truth"
The Gateway Pundit: President Trump on Saturday blasted the far-left lunatic and serial liar chosen to lead the Department of Homeland Security's "Disinformation Governance Board." Nina Jankowicz, the Marxist chosen to oversee the new board, called Hunter Biden's laptop 'Russian disinformation.' U.S. Press Secretary Jen Psaki defended Nina Jankowicz and said she's a person with "extensive qualifications." READ MORE »
Trump grand jury ending in N.Y. with no charges against ex-president
The Washington Post: A six-month grand jury that was convened late last year to hear evidence against Donald Trump was set to expire this week, closing a chapter in a lengthy criminal investigation that appears to be fizzling out without charges against the former president, people familiar with the matter said. The grand jury was convened in November with a mandate to hear evidence against the former president. READ MORE »
Man Who Married Hologram of a 16-Year-Old Runs Into Big Problem…
The Western Journal: The complications of phones, tablets, computers and other facets of 21st-century life are nothing next to the plight of Japan's Akihiko Kondo, who can't talk to his wife anymore because her software no longer is supported. Such is the price Kondo paid for being what's called a fictosexual and marrying a hologram of a fictional character, according to the New York Post. Kondo, 38, had what he termed a wedding ceremony in 2018 when he married Hatsune Miku, who in Japanese anime culture is a 16-year-old pop singer with turquoise hair. READ MORE »
McDonald's loses millions in Ukraine and Russia
The Washington Examiner: Temporary restaurant closures in Russia and Ukraine have cost McDonald's millions of dollars. The fast-food giant is facing a loss of $100 million worth of spoiled inventory as over 950 stores remain closed while Russian President Vladimir Putin's war in Ukraine drags on, McDonald's CEO Chris Kempczinski said Thursday. READ MORE »